Abdullah Abdullah looks at how the role of the centre forward is changing within women's football.
European football has a new name on its Champions League trophy. Last month, Barcelona Femini thrashed Chelsea Women 4-1 and in the process became the first team other than Olympique Lyon Feminin to win the title in the last five years.
One of the main talking points of this UEFA Women's Champions League campaign has been the improvement of more complex tactical game plans. Coaches at the top teams had to become much more tactical to navigate their way through the knockout rounds, making this season's competition much more exciting to watch. 
During the course of the competition, we witnessed Paris Saint-Germain knock out Lyon while Wolfsburg and Bayern Munich caused Chelsea a host of issues with the latter team even beating them in the first leg. These difficulties have no doubt come from a level of tactical improvement in elite women's football, meaning the players have had to become smarter, better, and have had to adapt to different roles.
But while we have seen this shift across the pitch, there is one area that has seen more growth than others: the centre forward position. 
Jenni Hermoso produced an outstanding display as a false nine as Barcelona's centre-forward while Sam Kerr, Pernille Harder, and Fran Kirby all played slightly different attacking roles to produce some exhilarating attacking performances in the Champions League. Beyond these players, Marie-Antoinette Katoto is one the finest young strikers who is a lethal penalty box striker. 
All of these forwards display a wide range of roles but one common theme between all them is their capacity to be involved in build-up.
The evolution of the role is one that is fascinating to uncover. In this article, I want to focus specifically on players who worked well as a striker whilst being heavily involved in working the channels or dropping deep and contributing in build-up and progression.
The Modern Number 9
The modern number 9 is essentially the type of player who can do it all; they're able to contribute in all phases of the attacking third whether it be through build-up, heading, agile movement or hold-up play.
What most of these modern strikers have in common is a preference to drop into pockets of space for other attackers to come inside and attack the vacant space. A lot of teams now will play with more direct wide players with a space creator as a striker. 
The false nine is a role that prides on space and movement. The position and role has already evolved with Lionel Messi a major benefactor under Pep Guardiola in becoming an excellent forward. Beyond Messi, Cesc Fabregas, Kai Havertz, Francesco Totti, and Roberto Firmino all possess different qualities for the role. The women's game has now seen an increase in this type of player with Hermoso, Lauren James, Georgia Stanway, and Lea Schüller a few examples who have come into prominence in recent seasons.
Jenni Hermoso displayed the traits required for a modern centre forward playing for Barcelona in the Champions League final.The Spanish international was brilliant with her hold-up play and pulling centre backs out of position and allowing Lieke Martens, Caroline Graham Hansen and Aitana Bonmati to exploit space in behind.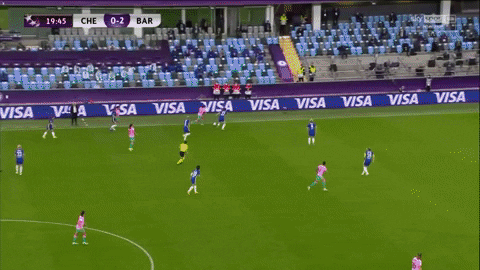 In this clip, you can see Barcelona isolate Chelsea in both the wide and central areas. But it is the intricate movement of Hermoso that prompts Magdalena Eriksson to step forward, allowing the requisite space for Bonmati to run in behind. These movement patterns are common in Barcelona's style of play and has been a feature of their title-winning campaign.
Finding the best players at Receiving Zone 14 and Half Space Passes using TransferLab
Thanks to TransferLab's unique algorithm, it is possible to generate novel metrics which allows us to assess a player's ability at looking for pockets of space behind the forward line. TransferLab has introduced two metrics which look at how players add value to a team by receiving passes in Zone 14 – the area just outside the penalty area but in front of the goal – and in the half spaces – the deeper channels on either side of the penalty areas. 
Here is a scatter plot showing who performs best on these two metrics for the teams in Tier 1 on TransferLab (WSL, Frauen-Bundesliga, Ligue 1 Feminine and NWSL):
In this scatter plot, we can see three standout players in Evelyne Viens (Gotham City FC), Sam Kerr (Chelsea), and Lea Schüller (Bayern Munich). Other notable names who showed up strongly are Vivianne Miedema, Nikita Parris, Rebecka Blomqvist, and Christen Press which legitimises the overall results. 
Let's take a look at the three best players:
Evelyne Viens
Viens is a young striker who currently plays for Gotham FC in the NWSL. She is probably the most advanced of our three forwards, preferring to stay higher up the pitch, positioning herself in the channels closer to the box and participating in passing exchanges from these areas. 
Looking at Viens' TransferLab profile, you can see how strongly she performs statistically across the board. With the exception of her aerial win percentage, finishing and adjusted pass accuracy, the rest of her statistics rank her in the high 80s and 90s percentile rank.
Here's a video clip that shows what Viens does so well as a forward:
In the video, we can see Viens pick up possession in the channel and lay it off to the wide player. Though it seems a simple move and pass, the most important aspect of this is Viens moving the central defender away from her position allowing her midfielder to run in behind.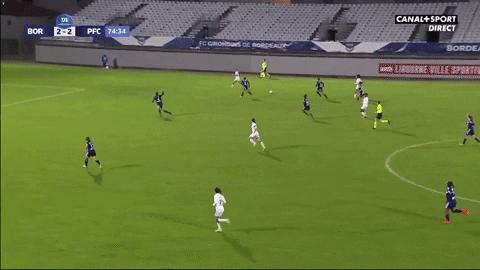 Here, she takes up a wider position from the start but drives in on her own with two players coming across to be passing options. In the end, though, Viens is able to win the penalty through her dribbling.
Viens is one type of centre forward who has the qualities to lead the line but also provide assistance in build-up though not as heavily perhaps as our next two players.
Sam Kerr
The second of our three players is Samantha Kerr. The Australian striker has been instrumental to Chelsea's fortunes this season, scoring 21 goals in the WSL this season.
Kerr's style of play is very much that of a player who is heavily involved in ball progression and link-up. Because of the system she plays in, Kerr needs to be proficient in both her movement and awareness. She's excellent in the channels where she uses her excellent positioning and hold-up play to keep defenders at bay.
Kerr's TransferLab profile shows her to be in the high 80s and 90s percentile rank in most metrics:
Notice how strong her progressive and passing numbers are. As you can see, for passes to the box, forward passes received, key passes, and expected assists, Kerr ranks in the 95th percentile rank and above for forwards in the WSL. Her flexibility is also highlighted in her heat map which shows a high level of activity in the wide areas.
Here's a clip from Chelsea's game with Brighton and Hove Albion earlier this season which shows her excellent movement:
Kerr drops into the half-space to pick up a pass from Millie Bright which drags the full back towards the striker. Her quick pass means winger Guro Reiten is able to exploit the space in behind and cross.
These movements are very important to the way a team plays and most modern centre forwards have to make these intelligent moves as part of the way their managers want to play. Static centre forwards are a dying breed.
This passage of play against Barcelona showcases how a striker has to be comfortable playing progressive and quick passes in possession:
Again, notice how Kerr drops in to receive the ball, creating space for Pernille Harder to run into.
Lea Schüller
Lea Schüller is our third and final find from our data search. The Bayern Munich striker has been the club's focal point, scoring 15 league goals for a side who look to be on their way to winning the Frauen-Bundesliga over rivals Wolfsburg. 
In the Striker – All Round profile in TransferLab, Schüller is given an overall rating of 98, putting her amongst the best strikers in the game. Her expected goals and open play attacking headers quality are in the 90th percentile rank which emphasises her attacking edge and clinical finishing.
On top of this, she is excellent in possession. Her ability to scan space is underappreciated which helps in dropping into pockets of space. You can see this reflected in her carries and progressive short passing above the 80th percentile ranking. 
The passage of play shown below shows an example of Schüller dropping into space to pick up a deep progressive pass and plays it off and moves into space. 
The marker eventually leaves her free which gives the German space to receive and make an intelligent forward run.
Analytics FC provides software and data services to entities within football looking to realise the gains possible from analytical thinking. We provide cutting-edge software solutions such as TransferLab, which helps improve and simplify recruitment decisions. To find out more about TransferLab and our other data services, or to find out more about us, visit our website.