Abdullah Abdullah profiles Barbara Bonansea and shows how she could fit in to Joe Montemurro's plans at Juventus.
This summer has ushered in a new beginning for several clubs around Europe.
Juventus have set their sights on challenging in the UEFA Women's Champions League, appointing Joe Montemurro as their new head coach. The former Arsenal man's task will be to maintain Bianconeri dominance domestically as well as competing against the likes of Chelsea, Barcelona, and Lyon in the Champions League.
With a talented squad at his disposal, he has this transfer window to assess and recruit names who fit his philosophy. None will be more important than his most influential attacker: Barbara Bonansea. The Italian winger is the team's talismanic figure and best attacking player. At 30 years of age, she's in the prime of her career and will be extremely important to the way Montemurro will want to play.
In this article, I want to look at the player in closer detail to explain her importance to Juventus and what makes her a top-class forward.
Who is Barbara Bonansea?
Barbara Bonansea is a versatile winger who can play across the front line but is more naturally a right winger. Her playstyle is very much predicated around being a more creative and penetrative presence than a traditional run-and-cross type winger. As a result, she is a goal threat with an excellent first touch and an intelligent sense of positioning. This combination makes a lethal player coming in off the right to either find a passing solution or a shot-creating action.
Looking at her numbers in the three pre-set Winger profiles on TransferLab, Bonansea ranks highly for each type of winger profile but most prominently as a wide playmaker.
Winger – Wide Playmaker: 98
Winger – All Round: 97
Winger – Classic Winger: 97
Although all of these profiles are similar, they also have some key differences which make up the role. We'll start off by having a look at all three of her profiles to glance over and see where it is that she excels against other wingers, beginning with the Wide Playmaker profile:
As you can see, Bonansea's ratings for expected goals and assists are in the high 90 percentiles which means she's creating and finding extremely favourable shot locations. In wider build-up phases, she's equally if not more influential, with her numbers in progressive short passes and through balls amongst the very best in Serie A putting her in the 100th percentile.
Moving on to her All Round profile, Bonansea also looks very impressive:
Most notably, Bonasea's carries numbers are also in the 100th percentile. Being in the 78th percentile for touches in the final third is down to the fact that she's one to receive and progress play quickly not lingering on the ball too much. Alternatively, Bonansea will find spaces within the final third to apply the finishing pass or score herself. Her low finishing rating is a concern, but if we observe her expected goals (xG) against her total goals then they just about even (8 goals vs 8.15 xG).
As a Classic Winger, Bonansea carries over similar metrics to the other two profiles:
Although she does play as more of a "false" winger, Bonansea does have the ability to cross. As you can see, her passes into the box numbers are good.
Juventus' Setup
Juventus utilised a 4-3-3 for the majority of their last campaign but reverted to a 4-4-2 on occasion. In the 4-3-3, Bonansea operated mainly at right wing but she did get used on the left on occasion. In a 4-4-2, she was used as a left midfielder. In each of these systems, she has operated in a wider role with the freedom to stay wide or come inside. 
Throughout his last season with Arsenal, Montemurro focused on playing a 4-2-3-1 and 4-1-4-1. Bonansea would slot into either of the wider positions, but given her playstyle, she could even be converted into number 10. Given her skill set and age, she could play the position the same way Danielle Van de Donk did for Montemurro at Arsenal: functioning as a mezzala.
As you can see, her heat map shows how much she influenced play on the right last season. There's significant movement between those areas indicating that she tends to want to come inside to cross or pass but will stay wide when needed.
Using Space and Movement
Anyone who has watched Bonansea will tell you that much of her upside comes from smart movement and the ability to exploit space. The Italian is very good at finding areas in and around the box to put herself in excellent positions to create or score goals.
A lot of players in her position prefer to play between the lines and place themselves in the half-spaces but Bonansea is comfortable in taking up wider spaces and making decisions from there. This affords her more time to decide her next move. Take this goal she scored against AC Milan, for example: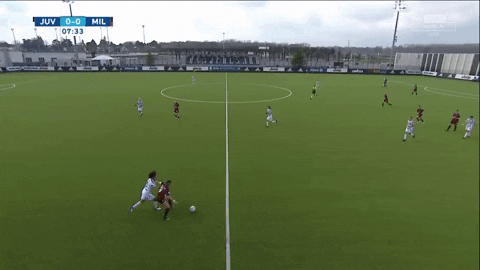 In the clip, Juventus manage to thwart Milan's build-up and intercept a pass from their forward. Martina Rosucci picks up possession in the half-space and looks for forward options. At this point, the Juventus forwards are fluid to try and give Rosucci a passing option. Bonansea's starting position was wide on the right, but when she saw Tuija Annika Hyyrynen coming in on the overlap, she drifted inside and found space more centrally.
Bonansea's key strength is her ability to identify space, and combined with her positioning between the lines. This enables her to force teams to be proactive in the way they mark the midfielder. Her movement with the ball is very direct which causes multiple defenders to suffocate the space she moves into. Combined with her creative passing, this makes her a dangerous proposition. She averages 0.58 assists per 90 minutes, putting her second in Serie A. 
Bonansea's movement and positioning is the foundation of her ability to score goals or pick up assists. It's even more effective on the ball where she's able to capitalise and control the next move. As shown earlier, Bonansea is highly ranked in ball carrying (99th percentile). Being able to do this means she can progress the ball forward, dragging opponents out of position and giving her teammates space to move into.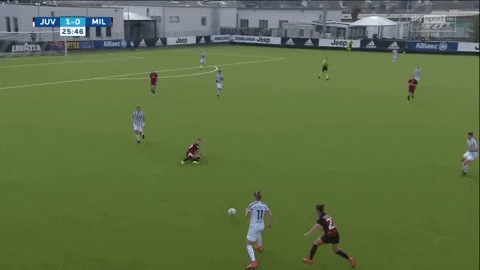 This passage of play sees the winger pick up a wayward pass with her back to goal. However, she manages to turn and carry the ball past a couple of Milan defenders. The progressive carry pulls in a number of players but her quick decision-making and thinking mean she's able to spot the vacant in behind the defence with a penetrative pass for the striker to latch onto.
Passing and Creativity
A large portion of Bonansea's game revolves around her creativity and vision.
As we have already shown, the winger's influence on proceedings largely comes from her positioning and movement. But the end product is a result of her wide range of passing that is borne from her creativity. Being able to choose from an array of passes, Bonansea is capable of unlocking defences with pinpoint line-breaking passes as well as quick interchangeable link-up play between midfielders and forwards.
Searching TransferLab by the Through Balls (Quality) metric, we can see how effective Bonansea is when it comes to through passes. As per all the quality based metrics on TransferLab, this gives players a rating based on how they add value to a team's goal difference per 90 minutes. The results take into consideration players in the top two tiers with a minimum of 725 minutes:
According to the results, Bonansea is ranked 14th overall, suggesting that she's a constant threat attempting to penetrate low block defences. Given Juventus come up against teams that will look to defend deep against them, Bonansea's passing becomes much more important.
Bonansea's close control and timing are a key feature of her creative passing. But what's most impressive is the by-product of her ability to create space by attracting players to her before passing through a team's defence: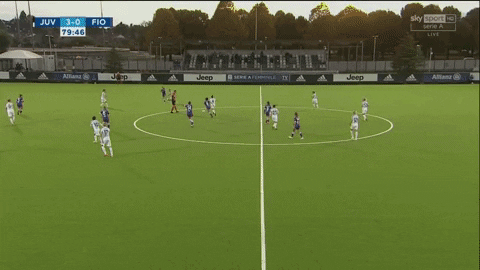 As you can see in this sequence, Bonansea receives a pass in space between multiple Fiorentina defenders. To stop her advance, three players around step up to pressure her. This shift the entire focus on to her which has created space for Lina Mona Andrea Hurtig to receive a free pass.
Even under pressure against teams that are more possession hungry, Bonansea has an influence on the ball. These possession dominant sides will want to dispossess teams quickly and often will be with a slightly higher defensive line and a good pressing strategy. The forward averages 2.56 deep completions and 4.54 progressive passes per 90 with a 88% success rate. These numbers indicate that she's heavily involved in Juventus' playmaking and Montemurro will be relying on her as his primary playmaker.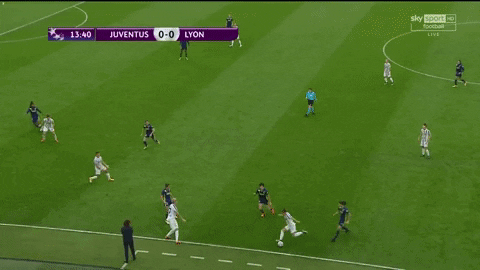 Taking this example from Juventus' game against Olympique Lyon last season, Bonansea receives the ball in space but turns into Wendie Renard. The Italian expertly holds the ball and waits patiently for Hurtig to drive past the Lyon defence so as to play her in.
Juventus have a well-balanced squad with a number of high-quality players, who with a bit of consistency and high-level tactical coaching from Montemurro, could be taken to the next level and challenge the powers in the UEFA Women's Champions League. There is little doubt Montemurro will be shaping his team around Bonansea and how the forward performs will be critical to the Italian team's success.
Analytics FC provides software and data services to entities within football looking to realise the gains possible from analytical thinking. We provide cutting-edge software solutions such as TransferLab, which helps improve and simplify recruitment decisions. To find out more about TransferLab and our other data services, or to find out more about us, visit our website.