After the fun we had with the Championship Team of the Season we published last month, we thought we'd go again by comparing our League One Team of the Season to the official one released by the EFL. Our Best XI engine within our TransferLab platform allows you to quickly see the best players in any league according to our unique player performance algorithm, while you also have instant access to the depth charts of any club in across sixty leagues worldwide.
The most powerful feature in TransferLab is the ability to create your own positional profiles. For example, rather than Analytics FC (or anyone else) prescribing what a centre-back should be measured on, the user is able to define their own centre-back profile to match their game style. In this way, a ball-playing centre-back could look bad in a profile for a more dominant "head-it and kick-it" type centre-back and vice versa. The scores that you will see next to the players in the team lineups (ranging from 0-99), are a reflection of profile rather than of absolute player skill – we do not say that Eden Hazard is a 97, but that Hazard is a 97 if you are looking for an all-round creative-threat who carries the ball, dribbles, creates, and gets chances for himself.
To create Teams of the Season, we therefore had to choose profiles for each position. For the English League One, we have chosen:
GK: Shot-stopping Goalkeeper (Geared more around stopping goals and aerial handling rather than focusing on distribution skills)
LB/RB: Attacking Full-backs (Focusing more on attacking actions such as carries, crosses and passes into the box)
CB: Ball Playing Centre Back (This profile has a mix of defending and possession/passing based metrics but leans more towards the latter)
DM: Defensive Midfielder (Focusing on the "destructive" side of the game e.g. Tackles, Interceptions, Blocks etc.)
CM: All-round Central Midfielder (This profile covers a wide range of attacking, possession/passing and defending metrics)
WM: Direct Attacker (Built around chance creation and assists but tailored more towards 1v1 dribbling and ball carrying ability)
AM: Free Attacker (Built around chance creation, passing around the box, combination play, assists and so on)
ST: Goal-scoring Centre-Forward (This one is pretty self-explanatory)
To a large extent, these choices are arguable: you might personally prefer defensive full-backs, or want to look at strikers who are more adept at playing as a target man, prioritising heading and hold play than pure chance getting or goalscoring qualities. And if you use TransferLab, you're able to tailor these profiles to suit your requirements!
However, these are the profiles we went with as we felt they created a good feel for the expectations of top performing players in League One. We also went with a 433 formation (in-line with the EFL's approach) to populate the best players in this year's competition. Additionally, players had to play 1500 minutes in the league this season to qualify. Finally, it should be noted that metrics within TransferLab are league adjusted so that they can be directly compared against other competitions such as the Premier League to help projected potential performance in different competitions.
League One
The Official PFA of the Season: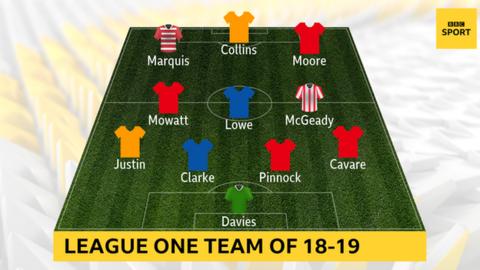 Our Team of the Season:
Kieffer Moore, Alex Mowatt, and Dimitri Cavare, all of Barnsley, are 3 of the 4 players to overlap between the PFA Team of the Season and TransferLab's. The other is Matthew Clarke of Portsmouth, who has had a strong season in central defence that has seen him linked to the likes of Brighton and Stoke this summer.
Mamadou Thiam is another Barnsley player that makes our Team Of the Season. His attacking output has been elite relative to the league, both in terms of getting chances himself and creating them for his teammates:
Another notable inclusion is Krystian Bielik, who has been on loan at now-promoted Charlton from Arsenal. The Polish U21 international, who can play CB too, has had a fantastic season as a defensive midfielder:
Our Under 23 Team of the Season:
We can also use TransferLab to generate a Team of the Season made up exclusively of players under the age of 23:
Marc Bola, who joined Blackpool from Arsenal and won Player of the Season for them, makes the team after a tremendous attacking season from full-back. Joe Aribo makes it in central midfield – the English midfielder is reportedly still available on a free transfer this summer, and may make the jump straight to the Premier League with Manchester City amongst the interested clubs. Ivan Toney has scored 16 goals in League One this season for Peterbrough after joining from Newcastle, and may push for top-scorer in the league next season.
Analytics FC provides software and data services to entities within football looking to realise the gains possible from analytical thinking. We provide cutting-edge software solutions such as TransferLab, which helps improve and simplify recruitment decisions. To find out more about TransferLab and our other data services, or to find out more about us, visit our website.